Use
Ideal for permanent installation of Audio & Home Theatre Systems (Digital)
Conductor
23AWG (1/0.584)
Oxygen Free Copper
Insulation
Foamed PE
Thickness: 1.01mm Nom.
O.D.: 2.60 +/- 0.10mm
Colour: Natural
Sheath
Black & Blue - Other available on request.
Inner Sheath
PVC (RoHS)
Thickness: 0.45mm Nom.
O.D.: 4.05mm Nom.
Outer Sheath
Hi Flex PVC (RoHS)
Core Colour
HCX266 - Red, Green & Blue
HCX267 - Red, Green, Blue, White & Yellow.
Velocity Of Propagation
83% Nom.
Dielectric Strength Test
1.0kV(AC) / 1 min. Minimum without breaking.
Pack
100 or 500 meter reels.
Assembly
Cores are cabled together with PP filler.
Wrapper Foil
Paper Tape Is longitudinally wrapped over the cores.
3 CORE Hi-DEF COAX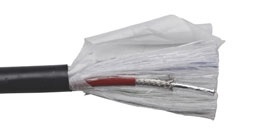 | Part Number | No. Of Cores | Inner Jacket Colour | Nom. Outer Sheath Thickness mm | Jacket Outer Dia. |
| --- | --- | --- | --- | --- |
| HCX266 | 3 | Red, Green & Blue | 1.10 | 11 |
5 CORE Hi-DEF COAX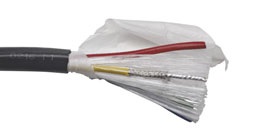 | Part Number | No. Of Cores | Inner Jacket Colour | Nom. Outer Sheath Thickness mm | Jacket Outer Dia. |
| --- | --- | --- | --- | --- |
| HCX267 | 5 | Red, Green, Blue, White & Yellow | 1.35 | 13.7 |
ATTENUATION (at 100FT Nom.)
| | | | | | | | | | |
| --- | --- | --- | --- | --- | --- | --- | --- | --- | --- |
| MHz | 3.6 | 10 | 71.5 | 135 | 270 | 360 | 540 | 720 | 750 |
| dB | 0.80 | 1.2 | 3.1 | 3.8 | 5.4 | 6.2 | 7.7 | 9.1 | 9.5 |
| MHz | 1000 | 1500 | 2500 | 3000 | 4500 | | | | |
| dB | 10.5 | 13.0 | 16.9 | 18.5 | 22.8 | | | | |