Use
These cables are for use with Hand Held Microphone.
Insulation
V-90 HT PVC or Polyethylene as indicated.
Sheath
General & Special Purpose - Grey V-90 PVC. Other Colours on request.
Special Hi-Flex - Standard colour Black V-90 PVC
Screen
As indicated for each cable type below.
Conductor
Bare Copper or TInned Copper as indicated below.
Pack
General Purpose & Special Hi-Flex - 100 or 500 meters reels.
Special Purpose - 500 meters only.
Core Colour
As indicated below.
Note
These cables are not suitable for direct connection to mains supply. Minimum order quantity will apply for some items.
GENERAL PURPOSE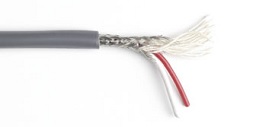 | Part Number | Nearest AWG | Core | Core Colour | Cond. No./Dia. mm | Insulation Thickness mm | Sheath Dia. | Screen |
| --- | --- | --- | --- | --- | --- | --- | --- |
| HC2129 | 24 | 1 Pair | RR + BK | 7/0.20 TC | PVC 0.45 | 4.95 | TC Braid |
| HC2132 | 20 | 1 Pair | RR + WW | 16/0.20 TC | PVC 0.30 | 5.10 | TC Braid |
SPECIAL HI-FLEX

| Part Number | Nearest AWG | Core | Core Colour | Cond. No./Dia. mm | Insulation Thickness mm | Sheath Dia. | Screen |
| --- | --- | --- | --- | --- | --- | --- | --- |
| HC2522 | 21 | 1 Pair | BU + WW | 30/0.12 BC | PE 0.50 | 6.5 | TC Braid |
| HCX130 | 24 | 1 Quad | 2BU + 2WW | 42/0.08 BC | PE 0.45 | 6.3 | TC Braid |
| HCY339 | 24 | 1 Pair | BU + WW | 7/0.20 TC | PVC 0.45 | 6.0 | BC Spiral Lap |
| HCX011 | 24 | 1 Pair | BU + WW | 42/0.8 BC | PE 0.45 | 6.5 | TC Braid |
SPECIAL PURPOSE (With additional control pair of cables)

Part Number
Nearest AWG
Core
Core Colour
Cond. No./Dia. mm
Insulation Thickness mm
Sheath Dia.
Screen

HCZ137

24
4
RR + BK
YY + BU
7/0.20 TC
PVC 0.45
5.9
TC Braid

HCZ913

22
4
RR + BK
YY + BU
7/0.25 TC
PVC 0.38
5.5
Al foil and drain

HCZ253

20
4
RR + BK
YY + BU
16/0.20 TC
PVC 0.30
6.0
TC Braid