Products Hartland AUDIO CABLES GENERAL PURPOSE TWIN CORE CABLES
Use
Transmission of Sound, Broadcast and Audio signals.
Insulation
V-90 HT PVC, Polyethylene or Polypropylene as indicated.
Sheath
Standard Grey V75 PVC, other materials or colours on request.
Screen
As indicated for each cable type below.
Pack
100 or 500 meter reels.
Core Colour
Standard colours as indicated - other colour on request.
Note
These cables are not suitable for direct connection to mains supply.
UNSCREENED
| Part Number | Nearest AWG | Cond. No. / Dia. | Insulation Type - Thickness mm | Core Colour | Sheath Type Dia. |
| --- | --- | --- | --- | --- | --- |
| HC2027 | 24 | 7/0.20 TC | PVC 0.25 | BU + WW | PVC 3.50 |
| HC2047 | 22 | 7/0.25 TC | PVC 0.38 | RR + BK | PVC 4.95 |
| HC2032 | 20 | 16/0.20 TC | PVC 0.30 | RR + BK | PVC 4.95 |
| HC2035 | 18 | 24/0.20 TC | PVC 0.45 | RR + BK | PVC 5.10 |
| HC2041 | 17 | 32/0.20 TC | PVC 0.45 | RR + BK | PVC 6.75 |
TINNED COPPER WIRE BRAID SCREEN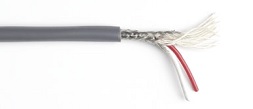 | Part Number | Nearest AWG | Cond. No. / Dia. | Insulation Type - Thickness mm | Core Colour | Sheath Type Dia. |
| --- | --- | --- | --- | --- | --- |
| HC2101 | 27 | 21/0.08 BC | PVC 0.20 | RR + BK | PVC 3.05 |
| HC2127 | 24 | 7/0.20 TC | PVC 0.25 | BU + WW | PVC 3.50 |
| HC2147 | 22 | 7/0.25 TC | PVC 0.38 | RR + BK | PVC 4.95 |
| HC2132 | 20 | 16/0.20 TC | PVC 0.45 | RR + WW | PVC 5.10 |
| HC2135 | 18 | 24/0.20 TC | PVC 0.45 | RR + BK | PVC 5.70 |
| HC2141 | 17 | 32/0.20 TC | PVC 0.45 | RR + BK | PVC 7.00 |
| HC2167 | 16 | 30/0.25 TC | PVC 0.45 | RR + BK | PVC 7.20 |
Minimum order quantity will apply for some items.
TC = Tinned Copper
BC = Bare Copper