Products Aflex TWIN FLAT TINNED Marine Twin Flat Tinned Double Insulated PVC/PVC Cable 75°C 300/500V
Marine Twin Flat Tinned Double Insulated PVC/PVC Cable 75°C 300/500V
FTM Series
Flat Tinned Marine
300/500V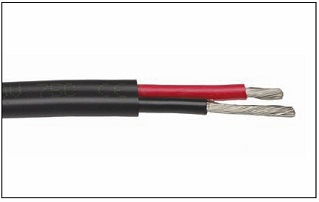 Cable Construction
Conductors:
Tinned fine stranded copper wire.
Insulation:
Special PVC.
Core colours:
Red and Black.
Sheath:
Special PVC.
Sheath Colour:
Black.
Temperature Range
-30°C to +75°C static
-20°C to +75°C flexing
Relevant Standards
AS/NZS 1125,
IEC 60228, IEC 60332-1,
AS/NZS 3808
Current Rating
As per Table 10 of AS/NZS 3008
Typical Uses
Marine/Boating Installations
Garden Lighting
Outdoor Speaker Installations
The materials used in the manufacture of these cables are RoHS Compliant.
Properties
Special PVC sheath
Resistant to oil and chemicals
UV stabilized and flame retardant
TECHNICAL DATA
| Part Number | Size mm² | Nom. Stranding No./mm | Nom. O.D. mm | Nom. Amps 40°C Spaced |
| --- | --- | --- | --- | --- |
| FTM 2/1.5 | 2 x 1.5 | 48/0.21 | 4.6 x 7.2 | 18 |
| FTM 2/2.5 | 2 x 2.5 | 80/0.21 | 5.4 x 8.8 | 25 |
| FTM 2/4.0 | 2 x 4.0 | 127/0.21 | 6.2 x 10.5 | 32 |