Products Aflex FLEXIBLE SINGLE CORE Single Core Rubber Flexible EPR/CPE Cable 90°C 3.3kV

Single Core Rubber Flexible EPR/CPE Cable 90°C 3.3kV
Single Core Rubber
Flexible Cables
EPR/CPE 1.9/3.3kV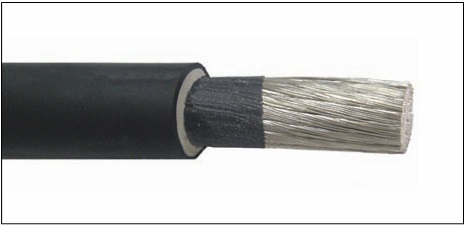 Cable Construction
Conductors:
Tinned Stranded Conductors according to VDE 0295, Class 5.
Insulation:
EPR Rubber Insulation, Type 3G13.
Sheath:
CPE Rubber outer sheath.
UV stabilized and flame retardant.
Resistant to oil and abrasion, splashes of diluted acids.
CE & ROHS Compliant.
Current Rating
As per Table 8 of AS/NZS 3008.1.1
Temperature Range
-40 to +90°C static
-20 to +90°C flexing
Relevant Standards
DIN VDE 0250 Part 602, IEC 60332-1,
AS/NZS 3808
Maximum Service Temperature
90°C
Bending Radius
6 times diameter after installed
8 times diameter during install
Typical Uses
For fixed installation in traction applications, unfused switchboard wiring, high current battery connections or where a tinned conductor is required in marine and other areas.

The materials used in the manufacture of these cables are RoHS Compliant.
Technical Data
| Part Number | Size mm² | Nom. Stranding No./mm | Nom. O.D. mm | Approx. Cable Weight Kg/Km | Nom. Amps 40°C Spaced |
| --- | --- | --- | --- | --- | --- |
| AHV001.5BK | 1.5 | 30/0.25 | 6.0 | 53 | 25 |
| AHV002.5BK | 2.5 | 50/0.25 | 6.5 | 67 | 33 |
| AHV004.0BK | 4.0 | 56/0.30 | 7.0 | 87 | 45 |
| AHV006.0BK | 6.0 | 84/0.30 | 8.0 | 112 | 57 |
| AHV010BK | 10 | 75/0.40 | 9.5 | 169 | 80 |
| AHV016BK | 16 | 118/0.40 | 11.0 | 233 | 106 |
| AHV025BK | 25 | 183/0.40 | 13.5 | 360 | 142 |
| AHV035BK | 35 | 260/0.40 | 15.0 | 469 | 177 |
| AHV050BK | 50 | 375/0.40 | 16.5 | 630 | 223 |
| AHV070BK | 70 | 526/0.40 | 18.5 | 817 | 283 |
| AHV095BK | 95 | 696/0.40 | 21.0 | 1081 | 341 |
| AHV120BK | 120 | 879/0.40 | 23.0 | 1345 | 406 |
| AHV150BK | 150 | 1113/0.40 | 26.0 | 1645 | 470 |
| AHV185BK | 185 | 1349/0.40 | 28.0 | 1988 | 540 |
| AHV240BK | 240 | 1765/0.40 | 31.5 | 2587 | 651 |
| AHV300BK | 300 | 2280/0.40 | 34.5 | 3271 | 752 |
| AHV400BK | 400 | 3084/0.40 | 39.5 | 4280 | 909 |
| AHV500BK | 500 | 3795/0.40 | 48.5 | 5290 | 1062 |