Products Aflex FLEXIBLE SINGLE CORE Single Core Single Insulated Flexible TPE Earth Cable 90°C 0.6/1kV

Single Core Single Insulated Flexible TPE Earth Cable 90°C 0.6/1kV
Single Insulated
Flexible Earth
Special TPE
0.6/1kV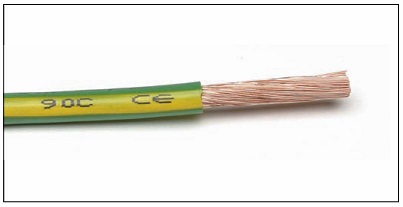 Cable Construction
Conductors:
Conductors of extra fine wires to International Standards to ensure maximum flexibility. Class 5.
Insulation:
Special TPE compound allows conductor temperature of 90°C.
UV stabilised and flame retardant.
Temperature Range
-30°C to +90°C static
-20°C to +90°C flexible
Relevant Standards
AS/NZS 5000.1, AS/NZS 1125, IEC 60332-1, AS/NZS 3808
Maximum Conductor Temperature
90°C
Bending Radius
5 times diameter after install,
7 times diameter during install.
Typical Uses
Power:

Switchboards, flexible droppers from busbars, flexible links, transformers, load banks, generators or anywhere green/yellow flexible earth cables are to be used.

Welding:

Earth leads.
The materials used in the manufacture of these cables are RoHS Compliant.
TECHNICAL DATA
| Part Number | Size mm² | Nom. Stranding No./mm | Nom. O.D. mm | Conductor resistance @20°C Ω/km | Approx. Cable Weight Kg/Km |
| --- | --- | --- | --- | --- | --- |
| AGL006 | 6 | 176/0.20 | 5.3 | 3.3 | 57 |
| AGL010 | 10 | 294/0.20 | 6.8 | 1.91 | 92 |
| AGL016 | 16 | 470/0.20 | 7.8 | 1.21 | 144 |
| AGL025 | 25 | 726/0.20 | 9.9 | 0.78 | 219 |
| AGL035 | 35 | 1040/0.20 | 11.0 | 0.554 | 311 |
| AGL050 | 50 | 1499/0.20 | 12.8 | 0.386 | 445 |
| AGL070 | 70 | 2165/0.20 | 14.6 | 0.272 | 638 |
| AGL095 | 95 | 2745/0.20 | 16.9 | 0.206 | 807 |
| AGL120 | 120 | 1554/0.30 | 18.6 | 0.161 | 1026 |
| AGL150 | 150 | 1961/0.30 | 21.0 | 0.129 | 1292 |
| AGL185 | 185 | 2331/0.30 | 23.3 | 0.106 | 1533 |
| AGL240 | 240 | 3172/0.30 | 26.4 | 0.0801 | 2080 |
| AGL300 | 300 | 4001/0.30 | 29.3 | 0.0641 | 2620 |