Products Hartland MULTIPAIR CABLES MULTIPAIR OVERALL ALUMINIUM FOIL SCREEN
Use
Fixed Low Capacitance cables for RS232 and RS422, Instrumentation and Electronic control.
Insulation
V-90 HT PVC or Polypropylene as indicated.
Sheath
Standard Grey V75 PVC. Other materials and colours on request.
Screen
Overall Aluminium/Polyester Laminate with TInned Copper Drain Wire.
Conductor
As per Chart B or C, Multipair Cables in the CMI Cable Catalogue.
Colours
As Indicated - other colours on request. Minimum order quantity of 500m applies.
Pack
100 or 500 meter reels.
Note
These cables are not suitable for direct connection to mains supply.
HCK6 SERIES - POLYPROPYLENE INSULATED (Colour code Chart B)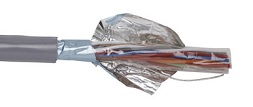 | Part Number | Nearest AWG | No. Of Pairs | Cond. No./Dia. mm | Insulation Thickness mm | Nom. Capacitance | Nom. Dia. mm |
| --- | --- | --- | --- | --- | --- | --- |
| HCK601 | 24 | 1 | 7/0.20 TC | 0.30 | 50 pf/m | 4.10 |
| HCK602 | 24 | 2 | 7/0.20 TC | 0.30 | 50 pf/m | 5.7 |
| HCK603 | 24 | 3 | 7/0.20 TC | 0.30 | 50 pf/m | 6.4 |
| HCK604 | 24 | 4 | 7/0.20 TC | 0.30 | 50 pf/m | 6.7 |
| HCK606 | 24 | 6 | 7/0.20 TC | 0.30 | 50 pf/m | 8.9 |
| HCK608 | 24 | 8 | 7/0.20 TC | 0.30 | 50 pf/m | 9.5 |
| HCK610 | 24 | 10 | 7/0.20 TC | 0.30 | 50 pf/m | 10.2 |
| HCK612 | 24 | 12 | 7/0.20 TC | 0.30 | 50 pf/m | 10.7 |
| HCK616 | 24 | 16 | 7/0.20 TC | 0.30 | 50 pf/m | 12.5 |
| HCK620 | 24 | 20 | 7/0.20 TC | 0.30 | 50 pf/m | 14.0 |
| HCK625 | 24 | 25 | 7/0.20 TC | 0.30 | 50 pf/m | 14.7 |
* Capacitance between conductor pairs.
TC = Tinned Copper