Use
Fixed wiring for Computer, Communication and Instrumentation systems. Suitable for RS232, RS423.
Sheath
Standard Grey V75 PVC. Other materials and colours on request.
Screen
Overall Aluminium/Polyester Laminate with Tinned Copper Drain Wire.
Conductor
As per Chart A. Multicore Cables in the CMI Cable Catalogue.
Colours
Other colours on request.
Pack
100 or 500 meter reels.
Note
These cables are not suitable for direct connection to mains supply.
HCE3 SERIES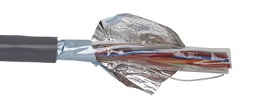 | Part Number | Nearest AWG | No. Of Cores | Cond. No./Dia. mm | Insulation Thickness mm | Nom. Wire to Wire Capacitance | Nom. Dia. mm |
| --- | --- | --- | --- | --- | --- | --- |
| HCE302 | 24 | 2 | 7/0.20 TC | 0.30 | 80 pf/m | 4.1 |
| HCE303 | 24 | 3 | 7/0.20 TC | 0.30 | 80 pf/m | 4.7 |
| HCE304 | 24 | 4 | 7/0.20 TC | 0.30 | 80 pf/m | 4.8 |
| HCE306 | 24 | 6 | 7/0.20 TC | 0.30 | 80 pf/m | 5.5 |
| HCE308 | 24 | 8 | 7/0.20 TC | 0.30 | 80 pf/m | 6.1 |
| HCE310 | 24 | 10 | 7/0.20 TC | 0.30 | 80 pf/m | 6.7 |
| HCE312 | 24 | 12 | 7/0.20 TC | 0.30 | 80 pf/m | 7.5 |
| HCE316 | 24 | 16 | 7/0.20 TC | 0.30 | 80 pf/m | 8.7 |
| HCE320 | 24 | 20 | 7/0.20 TC | 0.30 | 80 pf/m | 9.1 |
| HCE325 | 24 | 25 | 7/0.20 TC | 0.30 | 80 pf/m | 10.7 |
HCG3 SERIES
| Part Number | Nearest AWG | No. Of Cores | Cond. No./Dia. mm | Insulation Thickness mm | Nom. Wire to Wire Capacitance | Nom. Dia. mm |
| --- | --- | --- | --- | --- | --- | --- |
| HCG303 | 20 | 3 | 16/.20 TC | 0.30 | 150 pf/m | 5.7 |
| HCG304 | 20 | 4 | 16/.20 TC | 0.30 | 150 pf/m | 5.7 |
| HCG306 | 20 | 6 | 16/.20 TC | 0.30 | 150 pf/m | 7.1 |
| HCG308 | 20 | 8 | 16/.20 TC | 0.30 | 150 pf/m | 7.7 |
| HCG310 | 20 | 10 | 16/.20 TC | 0.30 | 150 pf/m | 7.9 |
| HCG312 | 20 | 12 | 16/.20 TC | 0.30 | 150 pf/m | 8.2 |
| HCG316 | 20 | 16 | 16/.20 TC | 0.30 | 150 pf/m | 9.5 |
| HCG320 | 20 | 20 | 16/.20 TC | 0.30 | 150 pf/m | 10.5 |
| HCG325 | 20 | 25 | 16/.20 TC | 0.30 | 150 pf/m | 10.9 |
Minimum order quantity will apply for some items.
TC = Tinned Copper